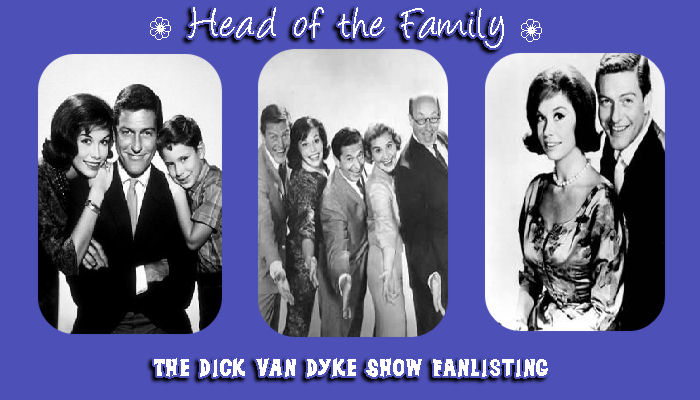 T

he Dick Van Dyke Show

The Dick Van Dyke Show premiered October 3rd, 1961 and ran for 5 seasons, with the last show on June 1st, 1966. It stars Dick Van Dyke as comedy writer Rob Petrie, Mary Tyler Moore as Rob's wife Laura, Rose Marie as one of Rob's fellow writers, Sally Rogers, Morey Amsterdam as the third writer in the group, Buddy Sorrell. They all write for the Alan Brady Show, a successful comedy show. Carl Reiner makes several guest appearances as Alan Brady. Alan is appeared as a domineering boss, having his brother-in-law, Mel Cooley, played by Richard Deacon as the producer of the show. The show also revolves around Rob's personal life with Laura and their son, Ritchie, played by Larry Matthews. This show has many devoted fans, which I have been one for practically my entire life. This show never gets old.
F

anlistings

A fanlisting is a site for a particular actress, TV show, etc. that come together to make one big list of fans from across the world. Confused? Head on over to

TFL

to learn more about them.
D

isclamer

© 2016 | Precious Memories | The Fanlistings
Coding by Nikie
No copyright infringement is intended. I am in no way affiliated with The Dick Van Dyke Show. This site is best viewed in 1024x768 resolution using Mozilla Firefox & Internet Explorer.