F

rasier All Characters

Minor spoilers on this page. Read at your own risk!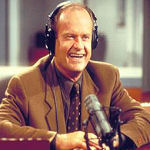 Frasier Crane (Kelsey Grammer)
-A psychiatrist who is newly divorced from his ex-wife, Lilith Sternin (Bebe Neuwirth). He moves as far away from Boston as he can, to his hometown of Seattle, WA. He ends up living with his father, Martin (John Mahoney), Martin's annoying dog Eddie, and his housekeeper/Martin's physical therapist Daphne Moon (Jane Leeves). He is hesitant at first about sharing his apartment, but in the end, he came to like his living arrangements (not that he would admit it out loud!). Frasier rekindled his relationship with his brother, Niles Crane (David Hyde Pierce), also a psychiatrist. And he hosts his popular radio show on KACL, "The Dr. Frasier Crane Show." He came to be close friends with his producer Roz Doyle (Peri Gilpin). Frasier likes opera, wine, and is up-to-date on all the classics in literature. Despite that, I think Frasier Crane is a character that people can identify with.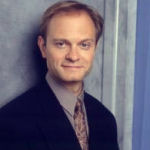 Niles Crane (David Hyde Pierce)
-Niles is also a psychiatrist, but he has his own private practice. He is married to his "colorful" wife, Maris, but their marriage soon crumbles and ends in divorce. Niles strikes up a fantasy about Daphne, and falls in love with her when he first meets her ("Dinner at Eight," Season 1). He has several relationships with other women, most notable Mel, who he marries. But Niles quickly divorces her when Daphne finally realizes she has feelings for Niles. Daphne and Niles eventually get married and have a baby boy, David (named for David Angell, one of the creators of the show who died on 9/11).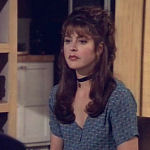 Daphne Moon (Jane Leeves)
-Martin's British housekeeper and physical therapist. Frasier didn't like Daphne at first, and wanted Martin to consider somebody else. But Daphne soon comes to capture everybody's heart (especially Niles'!). She claims to be psychic and has visions frequently, but they aren't really accurate. She is clueless about Niles' feelings for her until she starts falling for him herself. She dumps her fiance, Donny, as they're about to get married, and proclaims her love for Niles. It's a stormy road, but Niles and Daphne get their happy ending. :) ♥ Daphne also has a quirky English family of 8 brothers, and her mom reveals that she's having problems with Daphne's father. Daphne often tells stories about growing up with her brothers, and about her "Grammy Moon." Her favorite brother is Stephen, but her obnoxious brother Simon (Anthony LaPagaglia) visits her in Seattle frequently. Martin is the only member of the Crane family that enjoys Simon's company.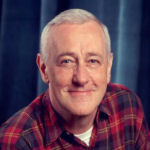 Martin Crane (John Mahoney)
-A former police officer. A shot in the hip in Korea made him give up his job. He was married to his loving wife, Hester, Niles and Frasier's mother, for many years before she died. He constantly complains about having to do exercises with Daphne, and he loves watching sports on TV in his favorite green chair (which Frasier dislikes with a passion!). He goes for drinks at McGinty's, and hangs out with Frasier and Niles when they go to Cafe Nervosa for coffee. He loves his Jack Russell terrior, Eddie. He starts dating again, and he is flattered that women still like him. He has a few relationships, most notably with Sherry. But he ends up marrying Ronee Lawerence, who used to babysit Frasier and Niles when they were boys.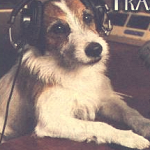 Eddie (Moose and Enzo)
-Martin's beloved Jack Russell terrior. He likes staring at Frasier and going to the dog park with whoever Martin wrangles into walking him.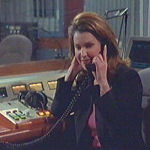 Roz Doyle (Peri Gilpin)
-Roz is Frasier's producer of his radio show. She becomes a close friend to the Crane family. She often complains about her bad dates, and not being able to find the right guy. Roz gets unexpectedly pregnant in Season 5. She delivers a baby girl, Alice, and raises her as a single mother.
There are other minor characters on Frasier, who work at KACL. There's Bob "Bulldog" Briscoe (Dan Butler), the sports announcer who constantly tries to go out with Roz. There's Noel Shempsky, who has a crush on Roz himself. He is a die-hard
Star Trek
fan, and annoys everybody and anybody with quotes and facts about the show. And there's Gil Chesterson (Edward Hibbert), KACL's restaurant critic, who gets on everybody's nerves. Frasier was also known for having celebrities as guest callers on Frasier's radio show. To see a list of guest callers, go
here
.
The name "Quite Stylish" for this fanlisting comes from the
Frasier
theme song.
F

anlistings

A fanlisting is a site for a particular actress, TV show, etc. that come together to make one big list of fans from across the world. Confused? Head on over to

TFL

to learn more about them.
D

isclamer

© 2016 | Precious Memories | The Fanlistings
Coding by Nikie
No copyright infringement is intended. I am in no way affiliated with anything related to Frasier. This site is best viewed in 1024x768 resolution using Mozilla Firefox & Internet Explorer.