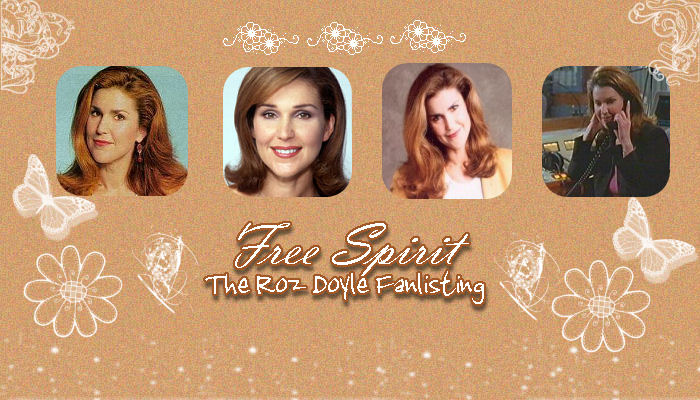 R

oz

D

oyle

Rosalinda "Roz" Doyle is a fictional character on the American television sitcom

Frasier

. She is played by Peri Gilpin. Lisa Kudrow was originally slated to play the character.

Roz is the producer of Frasier Crane's "Dr. Frasier Crane Show" on KACL 780AM. Although initially reluctant to take the job (it is revealed in a flash-back that Roz tries on several occasions to switch to another show early in her career with Frasier), she and Frasier soon become firm friends.

The character is named as a tribute to a producer of the television series

Wings

(having the same creators as

Frasier

), who died from breast cancer in 1991.

Credit:

Wikipedia
F

anlistings

A fanlisting is a site for a particular actress, TV show, etc. that come together to make one big list of fans from across the world. Confused? Head on over to

TFL

to learn more about them.
D

isclamer

© 2016 | Precious Memories | The Fanlistings
Coding by Nikie
No copyright infringement is intended. I am in no way affiliated with anything related to Frasier. This site is best viewed in 1024x768 resolution using Mozilla Firefox & Internet Explorer.