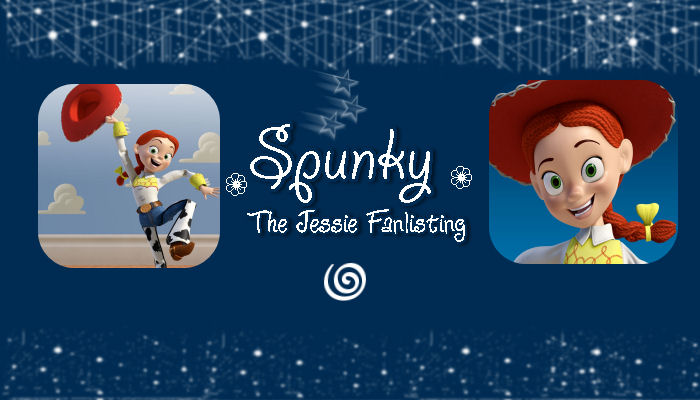 J

essie

Jessie, the Yodeling Cowgirl is a fictional character who is one of protagonists featured in the films Toy Story 2 and Toy Story 3. At Christmas in 1999, the Wall Street Journal called Jessie toys among the hottest of the season. In the movie, she is a very rare toy modeled after a character on the fictional television show Woody's Roundup, where the characters consisted of Sheriff Woody, Jessie, Stinky Pete the Prospector and Bullseye, Woody's horse. Her hair is formed to be a ponytail braid with a bow at the tip. Jessie is the tritagonist of the Toy Story film series.

She was voiced by Joan Cusack in the film (late voice actress Mary Kay Bergman voiced her yodels and speaking role of the TV show)

Credit:

Wikipedia
F

anlistings

A fanlisting is a site for a particular actress, TV show, etc. that come together to make one big list of fans from across the world. Confused? Head on over to

TFL

to learn more about them.
D

isclamer

© 2016 | Precious Memories | The Fanlistings
Coding by Nikie
No copyright infringement is intended. I am in no way affiliated with the Toy Story series or Pixar. This site is best viewed in 1024x768 resolution using Mozilla Firefox & Internet Explorer.