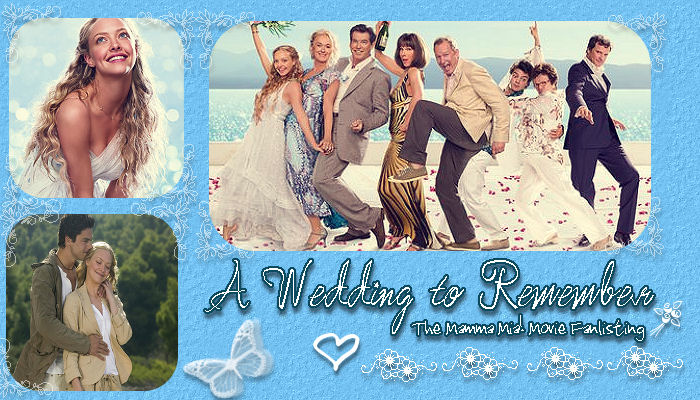 M

amma Mia!: The Movie Mamma Mia!

, promoted as

Mamma Mia! The Movie

, is a 2008 musical/romantic comedy film adapted from the 1999 West End musical of the same name, based on the songs of successful pop group ABBA, with additional music composed by ABBA member Benny Andersson. Distributed by Universal Pictures in partnership with Tom Hanks' and Rita Wilson's Playtone and Littlestar, it became the highest-grossing film musical of all time breaking the 30-year-old record of

Grease

. The title originates from ABBA's 1975 chart-topper "Mamma Mia." Meryl Streep heads the cast, playing the role of single mother Donna Sheridan. Pierce Brosnan, Colin Firth, and Stellan Skarsgård play the three possible fathers to Donna's daughter, Sophie (Amanda Seyfried).

Credit:

Wikipedia
F

anlistings

A fanlisting is a site for a particular actress, TV show, etc. that come together to make one big list of fans from across the world. Confused? Head on over to

TFL

to learn more about them.
D

isclamer

© 2016 | Precious Memories | The Fanlistings
Coding by Nikie
No copyright infringement is intended. I am in no way affiliated with Mamma Mia! or ABBA. This site is best viewed in 1024x768 resolution using Mozilla Firefox & Internet Explorer.